Welcome to Back When Wednesdays! Here is a place for you to link up your post showcasing anything from way back when!
Since my Florida baby shower is this weekend, my mom sent me these pictures of her baby shower! So these are waaaay back when photos!! And no, these are not instagrams, these are actual square pictures from 1982!
Back when I wasn't even born yet!
Back when my mom got a bunch of presents for me!
I love how these pictures show how much maternity clothes have changed. Back then, women didn't show off their bumps as much as we do today! I commented to my mom that her dress is so baggy you can't even tell she is pregnant! She said that's just how maternity wear was back then!
Thanks for joining me for Back When Wednesdays! I hope you'll link up with me with your post this week and the following weeks too! I can't wait to see all the different "back when" post you guys come up with!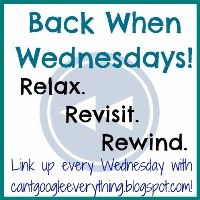 <a href="http://cantgoogleeverything.blogspot.com/search/label/Back%20When" target="_blank"><img src="http://i825.photobucket.com/albums/zz178/rachelblate/backwhenbutton200x200.jpg" border="0″ alt="Photobucket" /></a>