Do you ever find yourself starting a blog post with "back when I was…" or "I remember when I…"? Or maybe you have a bunch of old pictures you want to share but don't know how to fit them into a regular post? Well then this link up is for you!
Welcome to "Back When Wednesdays"- a link up where you can share memories from way back when! Anything from childhood, to college, to your first house, to just fun things that you want to share from before you started blogging! Every week you can link up a different "Back When" post to showcase whatever memories you want!
I have written a few "back when" post in the past and decided to finally turn it into a link up!
Here are some of my favorite old Back When Wednesday posts I've written:
Interested? I hope so! The link up will start next Wednesday, June 20th so you have plenty of time to get your first post ready! I hope you link up!
Want to help me advertise pretty please? You can post my link up button on your blog sidebar with this code: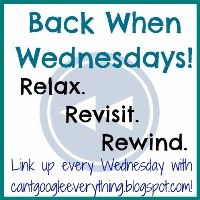 <a href="http://cantgoogleeverything.blogspot.com/search/label/Back%20When" target="_blank"><img src="http://i825.photobucket.com/albums/zz178/rachelblate/backwhenbutton200x200.jpg" border="0″ alt="Photobucket" /></a>