Welcome back to Back When Wednesday where we take a look "back when" and share some photos and memories from the past!
This week I am showing some photos from our rehearsal dinner!
As you can see these pictures are a little old- I think they might have had dust on them which I didn't notice until after I scanned them! But it gives them a nice "retro" feel, yes?

These were my bridesmaids! The one on the right who looks like me is my sister!
Me and my husband back when we were about to get married!
My parents, my husband's dad and great aunt and uncle! Andrews great uncle was our officiant at our wedding!

Thanks for joining me for Back When Wednesday! I hope you will link up your own post this week! You can post any memories you want to share so dig through those old photos and link up! If you can't do it this week, I hope you'll come back and link up with me next week and the week's after!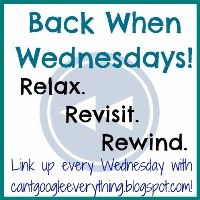 <a href="http://cantgoogleeverything.blogspot.com/search/label/Back%20When" target="_blank"><img src="http://i825.photobucket.com/albums/zz178/rachelblate/backwhenbutton200x200.jpg" border="0″ alt="Photobucket" /></a>