Welcome to another week of Back When Wednesday!
This week I am featuring some pictures from college! More specifically, from my sorority days!
Back when- every event had a corresponding t-shirt to go with it!
Back when- we had to wear "theme" outfits for bid day during rush. This one was Hawaiian I guess? Since I am wearing a Hawaiian flower skirt that's the best I can come up with! (gotta love that frizzy hair in the Florida August humidity!)
Back when- we had to wear buttons during rush week to show we were in a sorority so no potential new members would talk to us when we were out. We were only supposed to talk to them during the official rush events! Also, I want to point out that girl in the background- doesn't she look really scared like she saw a ghost or something?!
Thanks for stopping by and please feel free to link up your own "Back When" posts!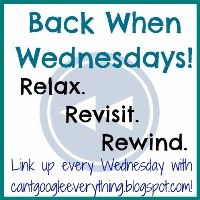 <a href="http://cantgoogleeverything.blogspot.com/search/label/Back%20When" target="_blank"><img src="http://i825.photobucket.com/albums/zz178/rachelblate/backwhenbutton200x200.jpg" border="0″ alt="Photobucket" /></a>