Welcome back to Back When Wednesday! This week I am going waaaay back…..
Back when- I used to go camping with my dad all the time! We did a program at the YMCA for fathers and daughters called "Indian Princesses" – it was kind of like Girl Scouts but you went to the meetings and stuff with your dad instead of mom!
Back when- I was a princess for Halloween….

….More than once! I guess I really liked princesses, or maybe I just wasn't very creative!
Thanks for stopping by this week! I hope you'll take the time to post some "back when" memories on your blog and link up with me! Can't wait to see everyone's posts!
If you do link up, please take a button: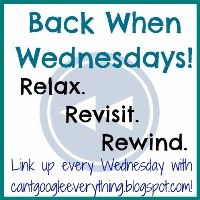 <a href="http://cantgoogleeverything.blogspot.com/search/label/Back%20When" target="_blank"><img src="http://i825.photobucket.com/albums/zz178/rachelblate/backwhenbutton200x200.jpg" border="0″ alt="Photobucket" /></a>