This shop has been compensated by Collective Bias, Inc. and its advertiser. All opinions are mine alone. #GetJohnsonsBaby #ChooseGentle #CollectiveBias
After my baby shower in August I really started making sure I had all the supplies I need for baby! Since this is my second time around, I had a general idea of what I wanted to get. Because it's been six years, we've gotten rid of most of our baby things, so we had a lot to stock up on!
I went to Target to get everything and as I piled everything into my cart I put all the bath stuff together and noticed what a cute idea it would be to make a baby shower gift using a baby bathtub as the basket! This would be the perfect gift for new moms, or moms who haven't had a new baby in awhile, like me! Whether you're buying a shower gift or you're expecting your own baby, you can use my bath time essentials ideas to help you stock up!
My Baby Bath Time Essentials
First, grab a sturdy baby tub.
I like to get the kind of tub with an infant sling insert, which is super helpful for washing newborns. You can use the tub in the sink or in the larger bathtub, whichever you feel most comfortable. When baby gets bigger you can take the sling off and she can sit up in the tub for bath time. If you're making a gift basket for a friend's baby shower you can use the tub as a base to hold everything!
Next, pile in all the supplies!
I grabbed some super soft towels and washcloths. I like to get hooded towels to keep baby's head warm while I dry her off (plus they're so cute!). You will also need a soft pitcher or cup to help rinse baby off. Just for fun I threw in a little bath toy as well! For older babies you could also include other supplies such as a cute robe and a water spout cover for the tub.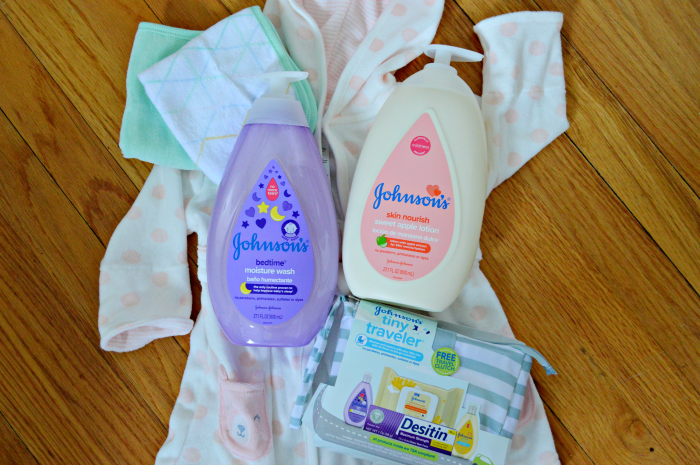 Interested in trying the Johnson's products I bought? Just click the image to shop these and other Johnson's products at Target!
Last, add your soaps, lotions and washes!
With our first, we used Johnsons products because I loved the way they smelled and we plan to use them again for this baby! Now, Johnson's has improved their formula with no parabens, no phthalates and it's hypoallergenic. They also have 50% fewer ingredients and are free of dyes and sulfates, which I think is awesome for baby! I also like the improved bottles they have with easy to use pumps. I picked up the Johnson's Bedtime Moisture wash, which is super creamy and smells great! I also grabbed the Johnson's Skin Nourish Sweet Apple Lotion for baby. I am excited to use this apple scent for my fall baby! I am also glad that Johnson's has made their products even gentler for babies!
Since we love to travel and tend to be on the go a lot, I also grabbed the Johnson's tiny traveler kit! It comes with tiny Johnson's products as well as other travel essentials for baby. How cute is this travel bag it all comes in? It's perfect to throw in my diaper bag with diapers, a changing pad and a travel towel for our new mini adventurer.
I got all these supplies at Target while I was doing my registry completion! If you're pregnant, I do recommend registering at Target, they have so much cute stuff! Johnson's is also a partner of Target registry and you get a welcome kit when you register. You also get a completion coupon to complete your list after friends and family buy off of it! The Johnson's products were on the baby soaps aisle, as well as on an end cap in the store. As you can see they also have cute gift packages if you're looking for a quick gift for a new mom!
Hot tip: you can add things to your registry using the Target registry app on your phone while shopping in the store for your registry completion!
What are your baby bath time essentials? Comment below with your favorites and don't forget to check out the updates Johnsons products at Target!